A state-of-the-art! Quseal is designed to offer the best ways to store your leftovers hygienically and to prolong the life of your food. Its elegant clip-style design enables a quick task & multi-usage.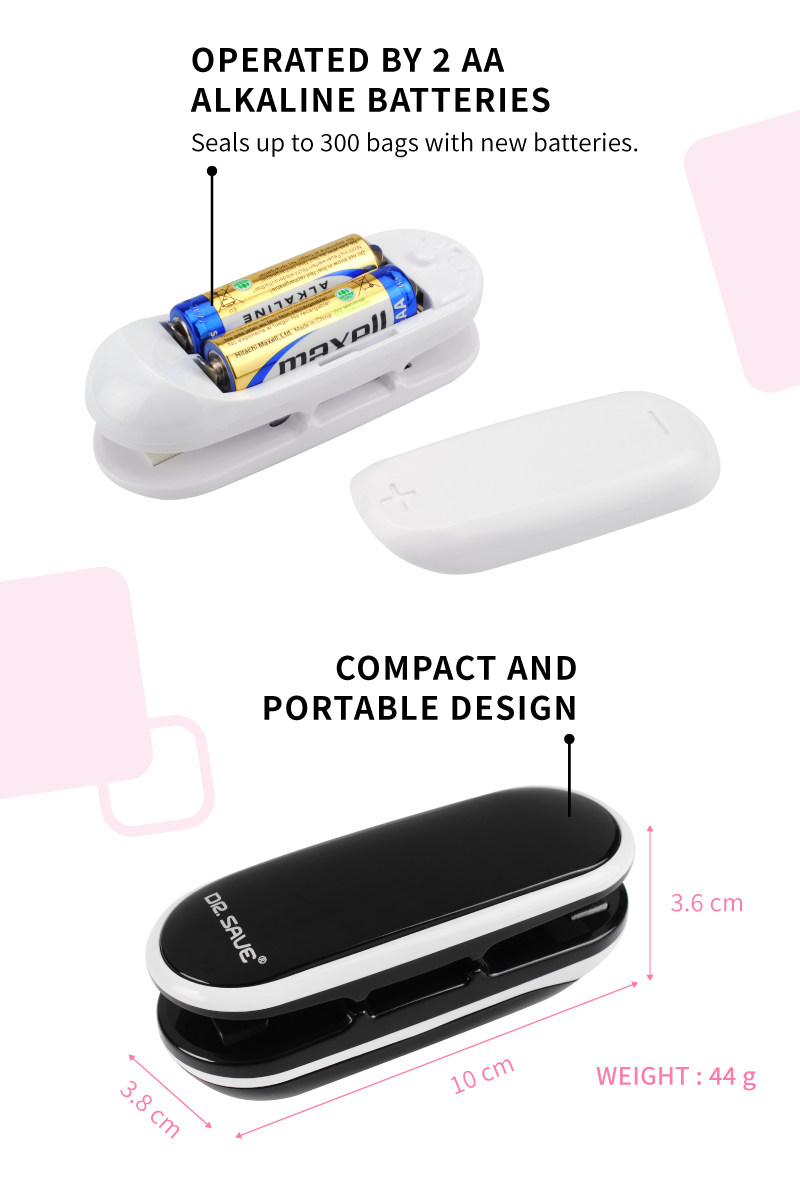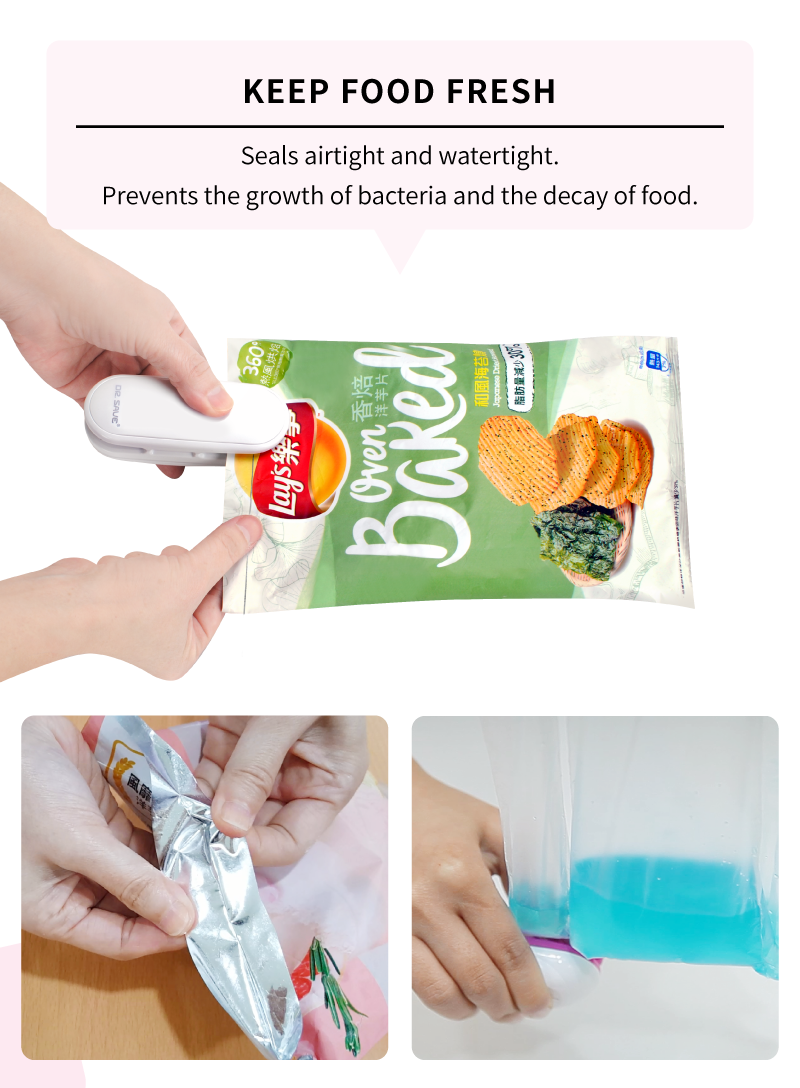 | | |
| --- | --- |
| Item | Descriptions |
| Series | DR. SAVE QUSEAL |
| Color | White, Black |
| Weight | 44g |
| Size | 10 x 3.8 x 3.6 cm |
| Power Source | 2 AA Alkaline Batteries |
| Material | ABS Plastic, Stainless Steel, Teflon Tape, Ceramic, Ni/Cr. Heat wire. |
| Product Certification | CE, GS, PAHS, RoHS, REACH |
| Place of Origin | Taiwan |
1. Multi-Functional : 2-in-1 Heat Sealer and Cutter
The DR. SAVE QUSEAL mini heat sealer is not only a SEALING machine but an OPENING device.
2. Best for Home Use
With DR. SAVE QUSEAL, you can re-use the original bag, keep foods and snacks fresher, longer and reduce food waste. 

It is also perfect for picnics and packed lunches. With its ability to create 100% air and water-tight seals, it is completely worry-free to even pack food with liquid inside.

DR. SAVE QUSEAL is also ideal to freezing stocks and foods when used with freezer bags.
3. Easy to Carry & Easy to Use
DR. SAVE QUSEAL is compact and portable design, and can be easily put into your bag or pocket.

It can easily complete 300 sealing jobs after installing new batteries.

Preheat the item by pressing 4~8 seconds before using, then simply slide it along the edge of any bag and it's sealed airtight.


DR. SAVE QUSEAL can seal any kind of plastic bags up to 0.3 mm thickness.

Whether you go camping, or the kitchen and living room at home, you can use it to cut and seal easily and conveniently.
4. High Quality
DR. SAVE QUSEAL is made from ABS material, can resistant to high and low temperatures that make it live longer.


Made in Taiwan. 100% high quality.

Worldwide patented and trademark registered.



※ Warm Tips : 
The DR. SAVE QUSEAL needs 2 X AA  ALKALINE batteries (not included).

When the battery power is insufficient, the sealing effect will be affected, you should replace the battery.

Please remove the battery if it is not used for a long time.
All of our Handy Sealing Machine are independently developed by Welcome Co., Ltd. and have obtained a number of invention patents, utility model patents, and design patents in the United States, European Union, Taiwan, China, Japan, etc.