Share
Product Details

Product Size:9.5 x 3.6 x 4.5 cm

Product Weight:62 g

Material:ABS Plastic, Rubber, Stainless Steel, Teflon Tape, Ceramic, Ni/Cr. Heat wire.

Power Source:2 AA Alkaline Batteries

Function: Seal

Usage:Food Preservation, Sous Vide, Organizing small items, Wrapping, DIY, etc.
B2B Information

Item No.:MS001GS

Package:Slide On Card

Package Size:14 x 15.7 x 4.5 cm

Package Weight:84 g

Certification:CE, PAHS, RoHS, REACH, WEEE

Packing:120 pieces / Carton

MOQ:3,000 pieces

Lead time:30 Days

Place of Origin:Taiwan

CCC CODE:85167900007
A legend first generation hand-held sealing tool that was invented by Welcome Co., Ltd. in early 80'ies. Since then it sold millions.

Handy Sealer is the first known battery-operated hand-held plastic bag sealer and unlike bulky size AC power bag re-sealers, Handy Sealer is battery operated and world's first smallest and lightest hand-held bag sealer that is known.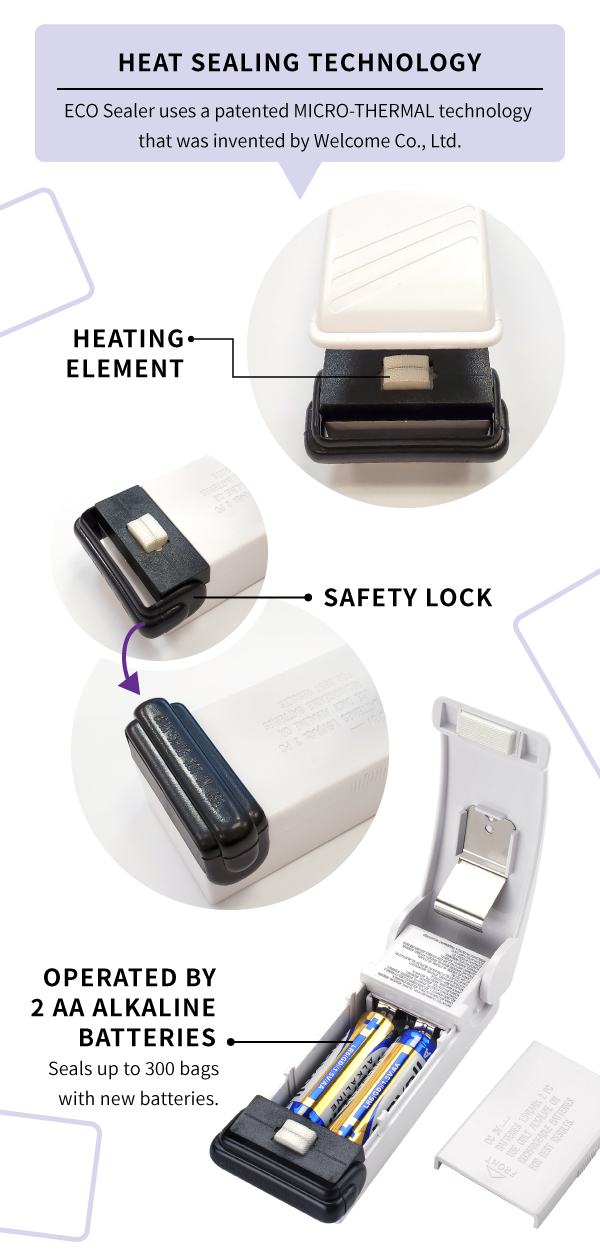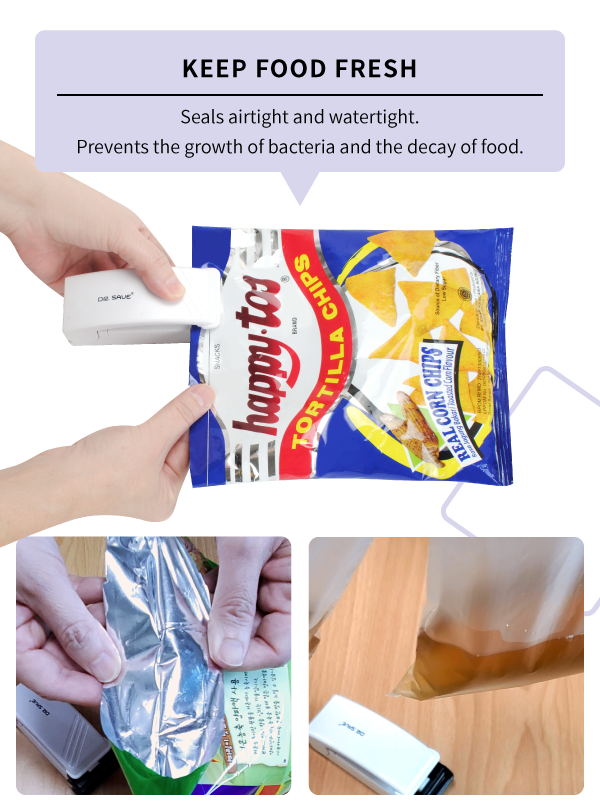 | Features |
Compact and portable design.
Seals airtight and watertight.
Keep leftovers fresh.
Easy way to store clothes for winter.
Seal any kind of plastic bags up to 0.3 mm thickness.
With the magnet strip on the backside, DR. SAVE Handy Sealer is always ready to use on the refrigerator.
With its safety lock, it is safe to keep it inside your kitchen drawer.
Operated by 2 AA Alkaline batteries and using MICRO-THERMAL technology, DR. SAVE Handy Sealer can easily complete 300 sealing jobs after installing new batteries.
Made in Taiwan. 100% high quality.
Worldwide patented and trademark registered.
| How to use |
View full details